SDRC Helps Joe Gibbs Racing Take 2000 NASCAR Winston Cup


Bobby Labonte and Joe Gibbs Racing (JGR) captured their first Winston Cup Championship yesterday, Sunday, November 12. This marks a first in NASCAR racing, as JGR was able to significantly decrease the time it takes to make modifications to its cars thanks to the underlying technology provided by SDRC for its software solution, and Hewlett-Packard (HP) for its hardware solution.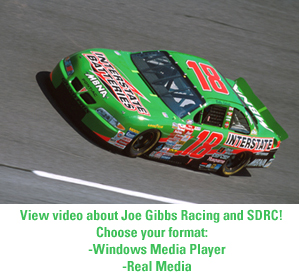 JGR and its world-class driver, Bobby Labonte, recognized that technology was the key differentiator and competitive advantage needed in helping them win the Winston Cup Championship. The winning solution includes SDRC's I-DEAS software installed on networked HP workstations and OmniBook notebook PCs, running simulation programs, decreasing modification processes, reverse designing for parts, implementing changes in the brief intervals between races and taking strategies and graphs down to the track. Joe Gibbs team data specialists also utilize and search the data garnered from these applications for ways to improve the vehicle's speed, chassis movement, and fuel consumption among other factors. A full line of HP OmniBook notebook PCs (including XE2, 900 and 4150) are used during testing prior to the race as well as in the crew pit to display the data-analysis, racing strategies and notes to evaluate the car's performance.

The result of the partnership among Joe Gibbs Racing, SDRC and HP has been the best season in Joe Gibbs Racing history, and the team's first Winston Cup Championship. As well, JGR's Tony Stewart became the only NASCAR Winston Cup Series race winner at Homestead-Miami Speedway by successfully defending his inaugural Pennzoil 400 victory.


© 2000 SDRC. All Rights Reserved.
Privacy Statement