SDRC Reports Record $120 Million Revenue; EPS of $0.16 Before Charge

-Metaphase® License Revenues Up 32%-

CINCINNATI-January 29, 2001-SDRC (Nasdaq: SDRC), a global supplier of collaborative product management solutions, today announced its results for the fourth quarter and year 2000. Revenues in the fourth quarter totaled $120.0 million, a new Company high, compared to $114.1 million last year. Net income for the quarter, excluding restructuring charges, was $5.7 million, or $0.16 per share, compared to $5.4 million, or $0.15 per share last year. Including restructuring charges, net loss was $(40.7) million, or $(1.14) per share, compared to net income of $4.6 million, or $0.13 per share for the same quarter last year.

For the year ended December 31, 2000, revenue was $451.9 million compared to $442.2 million last year. Net income for the year, excluding restructuring charges, was $18.6 million, or $0.52 per share, versus $31.1 million, or $0.83 per share last year. After charges, net loss for the year was $(27.7) million, or $(0.77) per share, versus net income of $28.0 million, or $0.75 per share in 1999.

In the fourth quarter of 2000, SDRC recorded a restructuring charge of $47.3 million, or $1.33 per share. The charge, which was primarily non-cash, included the write-down of goodwill and other intangible assets related to several acquisitions, costs associated with the consolidation of sales offices, and severance costs in connection with December's organizational restructuring. The majority of costs were related to the acquisitions of Imageware™ , Sherpa® Systems, and TD Technologies.

"We are transitioning our business model to capitalize on higher growth opportunities in the collaborative product development markets," said Chairman and CEO Bill Weyand. "SDRC experienced renewed momentum with our industry-leading Metaphase solution while our I-DEAS products continued to reflect the challenges of a mature market. Our Metaphase license revenue increased 32% in the quarter, we booked a record 67 license orders in excess of $100,000 each, and we received several more significant orders for Metaphase in early January, including a large order from Lockheed Martin. Our sales force transition is progressing very well, and our indirect channel is equipped with new leadership and a
driven agenda for growth in 2001."

Significant license orders in the quarter included BFGoodrich Aerospace, Air Products & Chemicals, Ford Motor, Kulicke & Soffa, Thiokol, EDS/United Defense, EADS Deutschland GmbH, Harley-Davidson, Nissan Motor, and many others.

"We are also executing a partnership plan to significantly expand the footprint of Metaphase and Accelis™ ," said Mr. Weyand. "Today, we announced a strategic global alliance with EDS whereby EDS will be a preferred implementation and integration services partner for these products. When it comes to world-class manufacturing expertise, EDS is a clear leader. Our combined efforts will further SDRC's position in the global collaborative product development market."

"On the product front, SDRC continues to build upon the industry's leading suite of scalable and federated product development solutions," noted Glenn Wienkoop, president and COO. "Today, SDRC announced the success of Metaphase Express, a prepackaged solution of software and services that was launched in October 2000. The first industry application, called Aerospace & Defense Solution (ADS), provides a rapid deployment of process and industry-specific knowledge. ADS is the first CMII-certified (by the Institute of Configuration Management) PDM solution; a critical validation for
success in highly-regulated industries. Several of SDRC's market-leading customers, including Boeing, Lockheed Martin, and Northrop Grumman, were instrumental in helping to define the A&D Solution."

ADS spurred a number of SDRC aerospace and defense relationships in the fourth quarter resulting in a combined total of over $15 million in new commitments. SDRC now supports seven of the ten largest aerospace and defense companies representing over $153 billion in combined revenues in this industry. SDRC's penetration of the aerospace and defense industry continues to increase.

"We see an opportunity in the MDA market for applications that are tightly integrated with PDM solutions," continued Mr. Wienkoop. "Our customers are asking for scalable solutions that facilitate globally-dispersed product development. We will announce, in the next few months, a series of enhancements and structural improvements to our I-DEAS™ product suite this year to capture this opportunity."

"The new products and partnerships mentioned here are just the beginning of what we expect will be a much improved year for SDRC," summarized Mr. Weyand. "As the year unfolds, so will more strategic partnerships and alliances, and new product capabilities for both I-DEAS and Metaphase. We look forward to better business execution in 2001, and we are optimistic about delivering improved results."

SDRC will hold a conference call at 5:00 P.M. Eastern Time today. The dial-in number is 877/601-3546, the pass code is "SDRC," and the leader is "Kevin Morrow." A replay of the call will be available until 5 P.M. Eastern Time Friday, February 2 by dialing 800/934-9727 or 402/220-0194. The conference call can also be accessed at www.streetevents.com.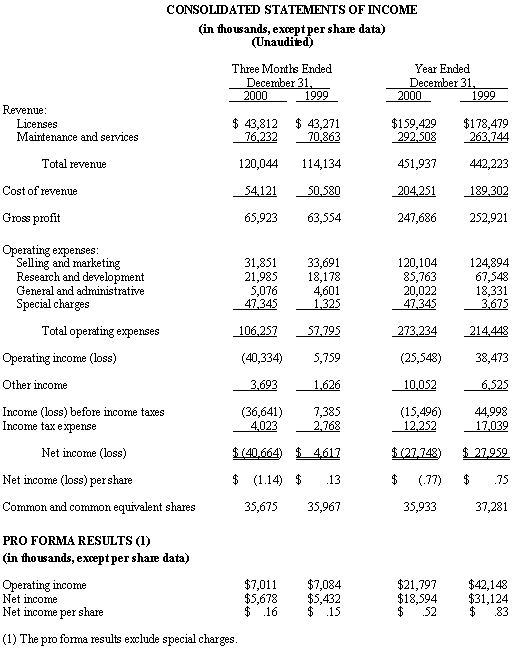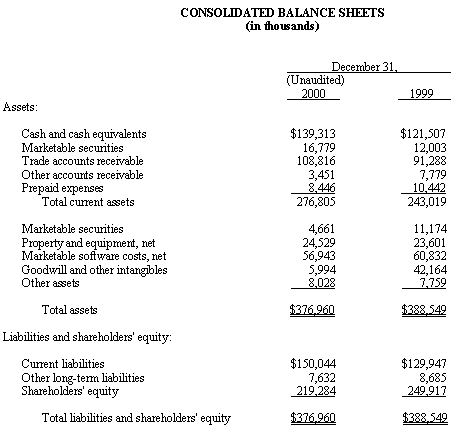 Except for historical information contained herein, the matters discussed in this news release are forward-looking statements that involve risks and uncertainties which could cause the actual results to differ materially from those projected, including the timely availability and acceptance of new products, global economic uncertainties, the impact of competitive products and pricing, the management of growth, and other risks detailed from time to time in the Company's most recent reports on Forms 10-K and 10-Q.

About SDRC SDRC (Structural Dynamics Research Corporation), with headquarters in Ohio, provides software
solutions and services that propel manufacturers to increased business competitiveness through the development of a web-based, collaborative environment for product development. SDRC employs more than 2,500 people worldwide, with 65 offices in 18 countries throughout North America, Europe, and Asia/Pacific.

Note to Editors: SDRC, I-DEAS, Metaphase and Sherpa are registered trademarks, and Accelis and Imageware are trademarks of Structural Dynamics Research Corporation. All other trademarks or registered trademarks belong to their respective holders.