SDRC Reports Metaphase® License Revenue Up 42%
First quarter revenue $112.8 million, EPS increases 33%
CINCINNATI—April 18, 2001—SDRC (Nasdaq: SDRC) today announced its results for the first quarter of 2001. Revenues for the March quarter totaled $112.8 million, up 4% compared to $108.2 million last year. Net income for the quarter was $5.8 million, or $0.16 per share, compared to $4.3 million, or $0.12 per share last year.
"Better sales execution and new product introductions contributed to our solid performance in the quarter," said Bill Weyand, chairman and CEO, SDRC. "SDRC expanded its product data management (PDM) leadership position and continued to gain ground on the competition in the first quarter, posting Metaphase® and Metaphase Express license growth of 42% compared to solid 32% growth in the fourth quarter, with 48% of Metaphase license revenue in this quarter from new customers."
"Building on SDRC's momentum from the fourth quarter of 2000, our Metaphase Express suite of software and industry domain expertise, combined with rapid implementation, is meeting the needs of our customers in the aerospace, defense, and automotive marketplaces," continued Weyand. "We will leverage our improved business execution, market traction, and vision of collaborative product management to expand, both horizontally and vertically, into other industries and markets throughout 2001."
First quarter 2001 Metaphase orders in excess of $500,000 were received from Nissan, BAE SYSTEMS, Toyota, Lockheed Martin, Teleflex Automotive, Northrop Grumman and Rockwell. I-DEAS orders in excess of $500,000 in first quarter 2001 were received from SteinhilberSchwehr, Mazda and Nissan.
Additionally, SDRC's results reflect a reduction in the company's best estimate of the effective tax rate expected to be applicable for the full fiscal year. SDRC restructured its approach to Asian product distribution in the first quarter contributing to a reduction in SDRC's effective tax rate, from 38% in the fourth quarter to 25% in the first quarter.
Earlier this month SDRC acquired Inovie Software, Inc. of San Diego, California. This strategic acquisition is one of several initiatives over the coming months that will enhance SDRC's web-based, collaborative environment for product management, while taking SDRC into the strategically compatible e-workplace market for project management.
Additional announcements in SDRC's first quarter, 2001 include:
I-DEAS® Enterprise™, the first PDM-based solution for mechanical design automation (MDA), offers unique capabilities for global enterprise collaboration.
Metaphase Express Automotive Solution, specifically tailored for the automotive supply chain, a further extension of SDRC's automotive leadership position.
Metaphase Express Aerospace and Defense (A&D) Solution, developed in partnership with Northrop Grumman, Logicon.
EDS strategic alliance established to address the growing demand for e-business collaboration software and services.
New channel strategy and I-DEAS distribution agreement with SteinhilberSchwehr GmbH for the Central European MDA marketplace.
SDRC's transition to a market-driven company also is reflected in two key events. On April 10, SDRC brought in over 25 of its top customers for an early review of the company strategy and product roadmap and to provide market and customer requirements input into its product development and business execution organizations.
Similarly, On May 29-June 1, SDRC will host a global industry summit, the Collaborative Product Management Symposium in Orlando, Florida. Co-sponsored by Sun Microsystems and Fast Company magazine, this event will feature recognized innovators such as Tom Peters and Jack Maynard of the Aberdeen Group and serve as the forum for unveiling SDRC's collaborative suite of products that bridge the gap between design and product data management (PDM). Visit www.cpm-event.com for registration details.
SDRC will hold a conference call at 5:00 P.M. Eastern Time today. The dial-in number is 888/820-8951, the pass code is "SDRC," and the leader is "Kevin Morrow." A replay of the call will be available until 5 P.M. Eastern Time Monday, April 23 by dialing 800/294-6358 or 402/220-9789. The conference call can also be accessed at www.streetevents.com.
Except for historical information contained herein, the matters discussed in this news release are forward-looking statements that involve risks and uncertainties which could cause the actual results to differ materially from those projected, including the timely availability and acceptance of new products, global economic uncertainties, the impact of competitive products and pricing, the management of growth, and other risks detailed from time to time in the Company's most recent reports on Forms 10-K and 10-Q.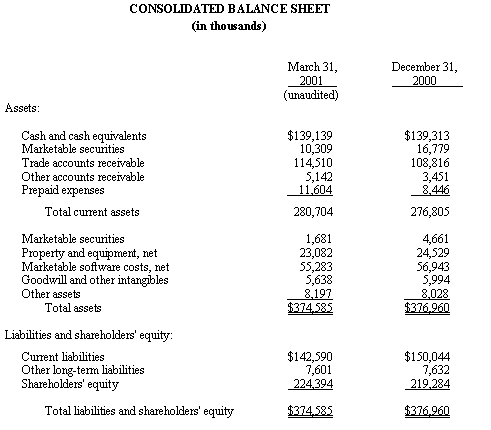 About SDRC
SDRC (Structural Dynamics Research Corporation), with headquarters in Ohio, provides software solutions and services that propel manufacturers to increased business competitiveness through the development of a web-based, collaborative environment for product development. SDRC employs more than 2,500 people worldwide, with 64 offices in 18 countries throughout North America, Europe, and Asia/Pacific.
Note to Editors: SDRC, I-DEAS and Metaphase are registered trademarks of Structural Dynamics Research Corporation. All other trademarks or registered trademarks belong to their respective holders.