SDRC Solutions Drive Jet Propulsion Laboratory, 2003 Mars Rover Project
I-DEAS® used in development of rover twins, Metaphase® and Accelis™ to be deployed laboratory wide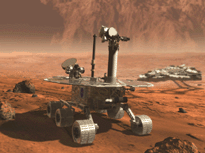 CINCINNATI-February 8, 2001-SDRC (Nasdaq: SDRC) today announced that the Jet Propulsion Laboratory (JPL) has purchased I-DEAS®, Metaphase®, and Accelis™ software for the Mars Exploration Rover project. I-DEAS will be used in the design of the rovers, while Metaphase and Accelis will migrate disperse legacy systems to an enterprise standard laboratory wide, including interfacing with suppliers. The Jet Propulsion Laboratory, managed for NASA by the California Institute of Technology, is the lead U.S. center for robotic exploration of the solar system.
Both Mars rovers, to be built, managed and operated by JPL, currently are planned for launch from Cape Canaveral Air Force Station, Florida. The missions are slated for launch in the Spring of 2003 with arrival at Mars in early 2004.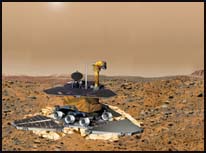 "SDRC has seen strong growth in the aerospace and defense industry over the past two quarters," said Bill Weyand, chairman and CEO, SDRC. "JPL adds its name to the list of current SDRC customers such as Lockheed Martin, Boeing, Logicon, Northrop Grumman and others who are recognizing business benefits using SDRC production proven solutions."
About SDRC
SDRC (Structural Dynamics Research Corporation), with headquarters in Ohio, provides software solutions and services that propel manufacturers to increased business competitiveness through the development of a web-based, collaborative environment for product development. SDRC employs more than 2,500 people worldwide, with 65 offices in 18 countries throughout North America, Europe, and Asia/Pacific.
Note to Editors: SDRC, I-DEAS and Metaphase are registered trademarks and Accelis is a trademark of Structural Dynamics Research Corporation. All other trademarks or registered trademarks belong to their respective holders.
For more information, please contact: